Farming and Xero
---
Overview
Traditionally farming software has been combined with accounting software on farm. As rural broadband takes hold and accountants and advisors work closer with farmers to achieve better outcomes we believe a tightly integrated 'best of breed' approach is a better solution.
Xero has worked with farming specialists and farming solution providers to determine a framework for tightly integrating farm management software and accounting to create a seamless approach for farm financial management.
Accounting software is best for

Bank reconciliations
Invoicing and receivables
Payables and creditors
Expense management
Financial reporting
Loan application support
GST
Annual Reports

Farming software is best for

Farm budgeting and planning
Farm nutrient management and planning
Farm maps
Livestock management and compliance
Livestock Inventory
Farm reporting
In addition a modern integrated Farm Management solution needs to be connected to rural banks and rural suppliers to automate the movement of financial information This document lays out the approach for Farm Software providers to connect their solutions into Xero to provide a seamless Farm Management experience for their customers and allow the powerful advisor community to assist Farmers.
---
Benefits
Integrating with Xero allows farm software to team up and deliver one complete online solution for farming in the cloud with real-time accurate information for stakeholders. A quick summary of benefits are listed below.
Full integrated cloud solution
Real-time accurate farming and business information online
Ability to share with key stakeholders- Bank, Financial Advisors, Off-farm shareholders, Farm planners etc
Power of Xero for the farming sector- Direct bank feeds, Multi-user, Access from anywhere on any device with web browser
Power of the Xero Eco-system for farmers- Farm workflow management, payroll, gst etc
Ability for all the individual farm software to integrate for access to real-time financial data (ie pasture management software getting access to actual $ results)
There are many rural feeds and farm addons available to ease the collection or input of farm data. Contact us for more details.
---
Timing
Full announcement of all farming partners who are ready to launch and demo at Xerocon in NZ (February 2014). Will also announce all farming partners (including rural feed partners) at this time.
---
Design
Here is our candidate model. We'd welcome your feedback.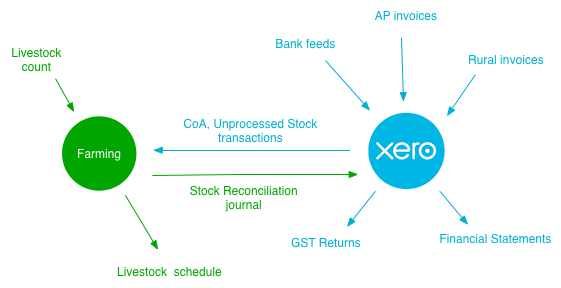 In summary the model is as follows.
Farm Management software (FMS) will provide the subsidiary ledger and inventory system for livestock. Xero is the accounting software and only records the total livestock by type.
The FMS understands births, deaths and aging of livestock information.
From time to time the FMS will synchronize it's ledger with the summary information held in the Xero. Xero can contain any number of Livestock asset accounts that will display on the Farms Balance Sheet.
Some livestock information, such as livestock purchases or sales will be recorded in Xero and therefore need to be 'cleared' when a livestock reconciliation takes place. There are several options for coding these transactions. See the process flows below.
The actual stock numbers are managed in the FMS system.
The reconciliation process involves using the stock quantities in the FMS and the stock values from Xero then adding on the farm adjustments.
Once reconciled in the FMS and valuations completed, an adjustment journal (Stock Reconciliation Journal) is sent to Xero and any livestock clearing accounts are cleared. At that time both systems are in sync
At year end the FMS the livestock schedules are sent to Xero which can be displayed in the Annual Report.
---
Workflows
Farmer using Xero and Farming Software
In chronological order, here is the recommended process flow where an organisation uses a Xero Business edition and Farm Management Software:
Accountant using Xero, preparing Farm Annual Accounts
In chronological order, here is the recommended process flow where an Accountant needs to complete the farm annual accounts using Xero Partner editions and simple farm software:
Other information
Our Accounting partners have given positive feedback on the design. It is important they can produce a livestock schedule and valuation for clients who have still not transitioned to the full solution. Having an entry level partner edition for the Connected Apps allows the Accountant to use the system for one-off annual work and will get them familiar with the product and allow them to grow their client base onto the full solution.
Internet- Farmside has been widely adopted and the Government's Rural Broadband Initiative is now available to many farms. Uptake has been slow, but as more solutions like this become available to farmers they will be able to justify cost.
Banking 2.0- Xero is working with the major banks in New Zealand to complete the loop between the bank and Xero. This will allow automatic provisioning of feeds and the ability for the Xero user to push batch payments directly into their online banking.
Currently in Xero, farm organisations use inventory Items to track stock classes. Xero does not expect this practice to continue once they adopt an FMS Connected Apps. Instead the FMS system will become the subsidiary ledger/inventory system for farming with the primary interaction being the COA.
Farming entities which have multiple farms run as separate departments need to link to tracking values within Xero.
Contact us about partner API's that allow other farm software to draw financial information out (i.e. feed budgeting software can use real-time actual financial results)
To discuss the opportunity to be a farming Connected App Partner or for any questions, please contact ben.richmond@xero.com